| | |
| --- | --- |
| | |
| Site Links | |
| | |
Current News
News Archive
Team Members

Submit a Map
Links Section

Discord Channel

Message Forums
| | |
| --- | --- |
| | |
| Sven Co-op | |
| | |
Game Manual
Features/Changes
Support the Mod

Entity Guide

The FAQ
Files Section
Download SC!
| | |
| --- | --- |
| | |
| Media | |
| | |
Map Screens

Weapon Screens
Enemy Screens
Articles

Map Making Info
Server Guide
SC Nostalgia
Hi everyone... afraid I'm really busy this Christmas, so I'll just make this a short news post with some recent updates.

Firstly, Toadie has recently completed the 3.5 Medkit (though a few tweaks may be made before release). Click the image below for a short video showing some of its animations.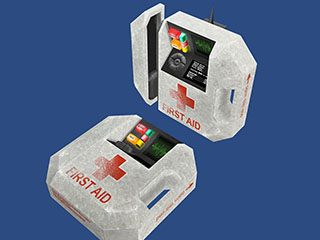 Secondly, Sniper has recorded a quick test video showing off a couple of new features (work-in-progress). The test map used in the video is based off Sniper's Osprey 2. There are some other old test videos over there too, if you're interested... Just keep in mind that many were internal videos not intended for the public, and show some very unfinished stuff.

Lastly, Hezus has made a neat Tor-themed Christmas card for you (right-click to download). Merry Christmas and best wishes for 2008 from myself and the Sven Co-op team!!