| | |
| --- | --- |
| | |
| Site Links | |
| | |
Current News
News Archive
Team Members

Submit a Map
Links Section

Discord Channel

Message Forums
| | |
| --- | --- |
| | |
| Sven Co-op | |
| | |
Game Manual
Features/Changes
Support the Mod

Entity Guide

The FAQ
Files Section
Download SC!
| | |
| --- | --- |
| | |
| Media | |
| | |
Map Screens

Weapon Screens
Enemy Screens
Articles

Map Making Info
Server Guide
SC Nostalgia
We've just been informed that studio executives were not satisfied with an early cut of Sven Co-op: The Movie (apparently calling it "the greatest travesty known to man"), and as such, have decided upon a major change of direction for the film. They've signed on a new director who we're told is planning to focus more on the zombie elements of the film, minimizing Sven Co-op content. Though we're unhappy to hear this news, we hope that the changes will facilitate the production of an even finer piece of cinematic art. The film is now to be released under the title "Zombie Massacre" sometime in 2010.

We're currently trying to convince Rick to send us the rubber suit that they were going to use for Tor, by the way... I bet that thing would sell for a fortune on eBay.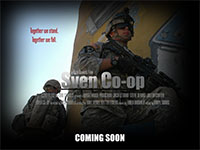 Late last year we were contacted by Echo Films founder Rick Daniels, who expressed a great deal of interest in the concept of Sven Co-op. Film studios have been trying to get hold of a HL-related license for a long time now, but except for Half-Life: Uplink and the DoD miniseries, Valve have refused all offers. Echo Films saw Sven Co-op as the best available option for a film adaptation. It's important for independent films to be original due to stiff competition, so we were told not to inform the community right from the start. Now that scripting is done and the actual production is underway, however, Mr. Daniels has given us permission to tell you a bit about the movie.

Echo Films is the international version of Russian independent film studio "KinoCafe". They have made appearances on the New York Film and Video Festival with short films with numerous themes and Sven Co-op will be one of them soon. They have some big names working on this film, including Michael Yaremchuk of Cube and Sleeping Dogs Lie, so you know it's going to be good!

The story basically follows the concept of Sven Co-op: A group of random people suddenly find themselves in a situation they must get out of through puzzles or by force. This group consists of such diverse individuals as a scientist, a gardener, two Iraq veterans, a teacher, a single mother and a few other characters. They do not know why they suddenly spawned into the area they find themselves in, but they know they have to get out alive, as unknown soldiers and monsters want them dead. And the only way to do this, is to co-operate. Rick Daniels tells us that while the movie will be action-packed, it will also feature depth and drama, showing what happens when human beings are forced into a corner.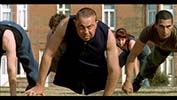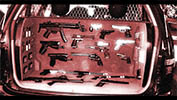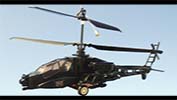 Do not expect this to be a Half-Life movie -- Valve holds the rights to all Half-Life content. Zombies and soldiers are fine, though, and Rick Daniels promised to give Tor (because he is a creation of Sven Co-op) a vital role in the movie! We are very proud that Sven Co-op will be featured in this independent film. Look for Sven Co-op the Movie at the New York Film and Video Festival in Fall 2008!

P.S. - Rick just sent us the following behind-the-scenes still from yesterday's shooting. This shot is exclusive to svencoop.com -- no direct links, please.

Also, make sure to drop by our new SC: The Movie forum section!