| | |
| --- | --- |
| | |
| Site Links | |
| | |
Current News
News Archive
Team Members

Submit a Map
Links Section

Discord Channel

Message Forums
| | |
| --- | --- |
| | |
| Sven Co-op | |
| | |
Game Manual
Features/Changes
Support the Mod

Entity Guide

The FAQ
Files Section
Download SC!
| | |
| --- | --- |
| | |
| Media | |
| | |
Map Screens

Weapon Screens
Enemy Screens
Articles

Map Making Info
Server Guide
SC Nostalgia
Thanks to your support, Gordon Freeman now officially is the All Time Greatest Game Hero! The folks at Valve were so pleased with the 55.8% of the gaming community voting for their no. 1 title's protagonist, they're giving 55.8 % off everything Half-Life related this weekend. So in case you're missing one of the titles featuring our beloved crowbar wielding hero, it's the chance to grab a copy.

Sven Co-op Community! Gordon needs you!
9 October, 2009 | by Hezus

40 Comments
The time is now. Our beloved hero, Gordon Freeman, is fighting for Gamespot's title of All Time Greatest Video Game Hero against none other than Mario. It's scientist versus plumber, it's crowbar versus mushrooms. This means he will need our help more than ever.
Assemble the army and vote daily for Gordon right here. Thank you.

Contest Submissions End, Judging Begins. Sven Co-op at Comiket 76!
2 October, 2009 | by Sven Viking

85 Comments
Just to let everyone know that the Sven Co-op Mapping Contest ended recently, and we're currently preparing to begin the judging process. Looks like we have some pretty impressive entries -- judging may be tough!

Once the winners have been selected, all entries will be collected into a map pack and released here on SvenCoop.com.


---

In unrelated news: A couple of months ago, someone named Takeaki requested permission for his literary club to publish a Sven Co-op beginner's guide in Japanese. The guide was distributed at Comic Market 76 (or Comiket) -- the world's largest handmade comic book fair, held twice a year in Tokyo. It also hosts a large number of user-created PC games, etc. Comiket 76 attracted an estimated 560,000 (predominantly female) attendees over three days.

I recently received a copy of the magazine itself, and have taken some pictures for anyone interested. Though I can't understand the text, it looks really useful -- including information on how to install and configure Sven Co-op without English knowledge, various tips and tricks, etc.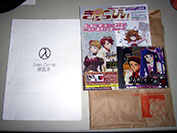 More images: Index, Page 9, Page 16, Page 24, Links.

Takeaki also included a sort of catalogue, and the latest episode of Umineko no Naku Koro ni (Warning: Spoilers in Wikipedia's Plot/Story sections), which was pretty nice of him! Now to wait for the patch.